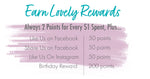 Don't Miss Out on Lovely Rewards!
Shopping season is upon us! We wanted to take the time to make sure you know about the Love Marlow rewards program called Lovely Rewards. While you are out shopping for your loved ones (or just yourself, no judgement here!) make sure you take advantage of savings!
The Deets
The Love Marlow rewards program is a point system that you bank up every time you make a purchase in store/online, when you follow/share about us on social media, and on your birthday! 
Everytime you shop with us, you are earning 2 points for every $1 you spend. But the fun doesn't stop there. There are so many ways to earn rewards that are as simple as a click away.
Enrolling in Lovely Rewards
If you've shopped in stores you already have an account created. If you'd like to check your balance or see your purchase history, you can create a login for this account going here on our website. [link] Be sure to use the same email you provided us as your login email, that way it will connect to the current points we have on file. Not sure what email you gave us? Contact Us!
If you have not shopped with us in store, you can still enroll in Lovely Rewards online! Click Lovely Rewards on the right side of the website and select "Create An Account" and follow the prompts to create a login. Then start shopping!
Remember to login to your account whenever you're shopping with us online so you can add pieces to your cart to purchase now or later, and to ensure you get points for your order!
Using Lovely Rewards
When you shop in store, just ask us to look up your account and we'll let you know how many points you have, and give you the option to apply those points towards your purchase. 
You can use the rewards on your online purchase as well by clicking the Lovely Rewards tab on the side of the screen, logging in, and then applying your valid rewards to your account.
Easy Peasy! Start taking advantage of Lovely Rewards today!